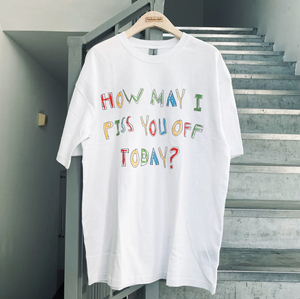 How May I Piss You Off Today Tee
Doing what we do best. Printing shit on tees. Your choice of shit on black or white tee.
Direct to garment print on 220gsm 100% cotton oversized tees.
Size chart:
L - Shoulder 56cm, Chest 57cm, Length 74cm, Sleeve 22.5cm
XL - Shoulder 58cm, Chest 60cm, Length 77cm, Sleeve 23.5cm
Limited pieces of each size available. Please refer to the care instructions included with the tee before you wash it.
FLABSLAB
Float Like A Butterfly, Sting Like A Bee.
Inspired by Ali, FLABSLAB pays homage to the latest international trends with a passion for creativity that celebrates all things well designed.
Founded by Nerf Creative, FLABSLAB is an independent multi-disciplinary platform bringing together international and notable contemporary artists and designers, trendsetters and design lovers. Big or small, general or intricate, the visual filtration and collaboration of ideas, aesthetics and life's gratification with esteemed visionaries ignites FLABSLAB. In everything creative, iconic and innovative, FLABSLAB is the explicit manifestation of anything that inspires, intrigues and impresses us.
Information from Flabslab