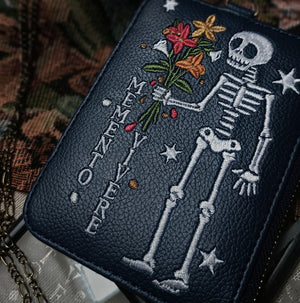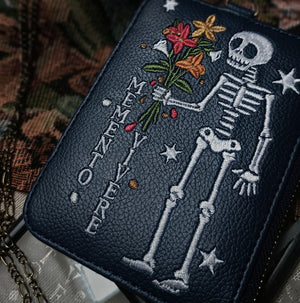 Memento Vivere Embroidered Faux Leather Card Wallet
Memento Vivere Embroidered Faux Leather Card Wallet
by Somethingstokeep

Memento Vivere, a latin phrase that translate to 'Remember to Live'

A call for us to keep doing things that brings us joy, despite the troubled times that we are currently going through. We should not let it stop us from living our lives as we still have hope for a better tomorrow!

Embroidered on faux leather.

12.5 x 10 cm with 4 card slots and a D-ring attachment.
Somethingstokeep is the brainchild of illustrator Varsam Kurnia. As a collector of trinkets and small treasures, he aims to create keepsakes that can tell stories to the wearer in the shape of wearable things. The collection takes its inspiration from astronomy, celestial beings, folklores and especially, the human condition.