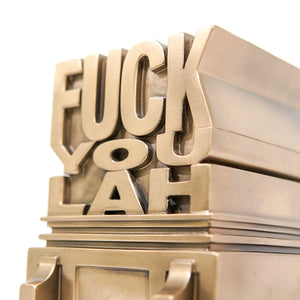 F****YOULAH Block
FUCKYOULAH Block
by Flabslab 
For the discerning person who wants more shit that he or she doesn't need. Hefty block that you can use as a paperweight or a gift to your boss.
Cast in cold cast bronze 
Edition of 40 
5" height x 4" width x 4" depth
FLABSLAB
Float Like A Butterfly, Sting Like A Bee.
Inspired by Ali, FLABSLAB pays homage to the latest international trends with a passion for creativity that celebrates all things well designed.
Founded by Nerf Creative, FLABSLAB is an independent multi-disciplinary platform bringing together international and notable contemporary artists and designers, trendsetters and design lovers. Big or small, general or intricate, the visual filtration and collaboration of ideas, aesthetics and life's gratification with esteemed visionaries ignites FLABSLAB. In everything creative, iconic and innovative, FLABSLAB is the explicit manifestation of anything that inspires, intrigues and impresses us.
Information from Flabslab