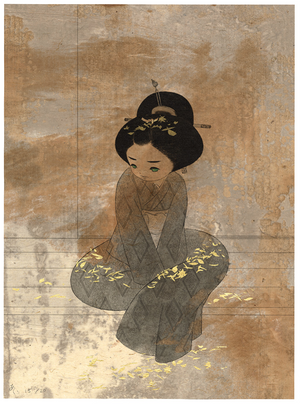 "あ A" print by Ai Yamaguchi
"あ A" 

medium: etching, relief printing, hand coloring
material:persimmon tannin dyed kozo paper, gold leaf, acrylic color
edition :20
image/sheet size:378×278 mm
edition 15/20 (framed)
Ai Yamaguchi (b. 1977 in Tokyo, Japan) established the group "ninyu works" in 1995 after entering Joshibi University of Art and Design, Department of Design and Crafts in 1995. Her works feature a unique support material below the picture surface, and are expressed with supple and delicately-drawn lines, often depicting women who live as ladies of the night in a teahouse on a mountain ridge, known as the touge no ochaya. Taking as her model the culture and customs of the Edo period, she accedes to the legacy of various forms of Japanese beauty from rinpaart to classical waka poetry. In doing so, she continually searches after a unique kind of ideal beauty: a renewed iteration of the classical Japanese form of paintings of beautiful women or bijinga. Her works have gained widespread acclaim both within Japan and internationally. Significant exhibitions in recent years include "Kamisaka Sekka: Dawn of Modern Japanese Design" (Art Gallery of New South Wales, Sydney, Australia, 2012), "The Grand Kojiki Exhibition – Feelings and words handed down from past generations to the future" (Nara Prefectural Museum of Art, Japan, 2014), Meiji Jingu Forest Festival Art "Shikansuiyo – Beautiful Forest and Nature" (Meiji Jingu Museum, Tokyo, Japan, 2020) and solo shows "kaba ni yu wo heru" (Mizuma Gallery, Singapore, 2023) and "yamaai no uta"(Mizuma Art Gallery, Tokyo, Japan, 2022). Ai Yamaguchi lives and works in Tokyo, Japan.