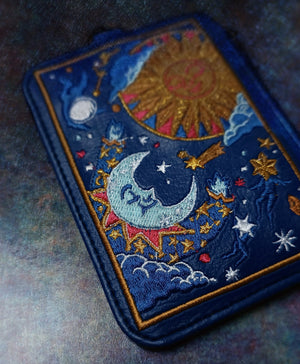 Celestral Embroidered Card Wallet
Celestral Embroidered Card Wallet
by Somethingstokeep

A colorful rendition of the cosmic dance, Celestral is about how if the Moon and the Sun can dance together, we humans are more than capable to look over our differences and be in harmony!

12.5 x 10 cm with 4 card slots and a D-ring attachment.
Somethingstokeep
Somethingstokeep is the brainchild of illustrator Varsam Kurnia. As a collector of trinkets and small treasures, he aims to create keepsakes that can tell stories to the wearer in the shape of wearable things. The collection takes its inspiration from astronomy, celestial beings, folklores and especially, the human condition.